At the Historic Francis Farm – 27 Francis Farm Road, Rehoboth, MA 02769
Welcome All Magical & non-Magical Folk alike to a night filled with Magic, Masquerading, Music and More!
Hurry! There are less than 50 tickets left
Ticket sales close Midnight Wednesday, October 23



Hosted by The Witches' Almanac, with all proceeds benefiting S.O.T.E.S, this 21 + only event, costumes required – opens at 7:30 pm (6:30 pm for VIP ticket holders.) Dance the night away to a DJ and live bands – take part in the opening and closing rituals and fill your night with Magic – walk the outdoor (under the pavilion) Labyrinth – or chill by the Bonfire.
FREE VALET PARKING! JUST DRIVE UNDER THE CARPORT.
Because of the unexpected success of the Witches Night Out Market, and the outstanding patience of all involved, we are using some of the equally unexpected proceeds to add complimentary (yes, free!)
VALET PARKING for the Witches' Almanac Masquerade Ball.
Rain or shine, just pull up to the covered area and don't worry about finding parking or ruining your costume.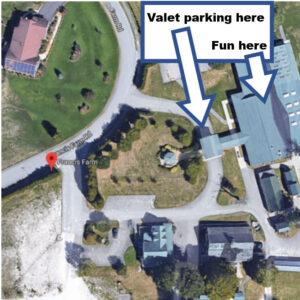 The Costume Theme for this year's ball is 'Between the Veils'.
Tarot readers and marketplace vendors will be there offering their services and wares.
Magickal Entertainment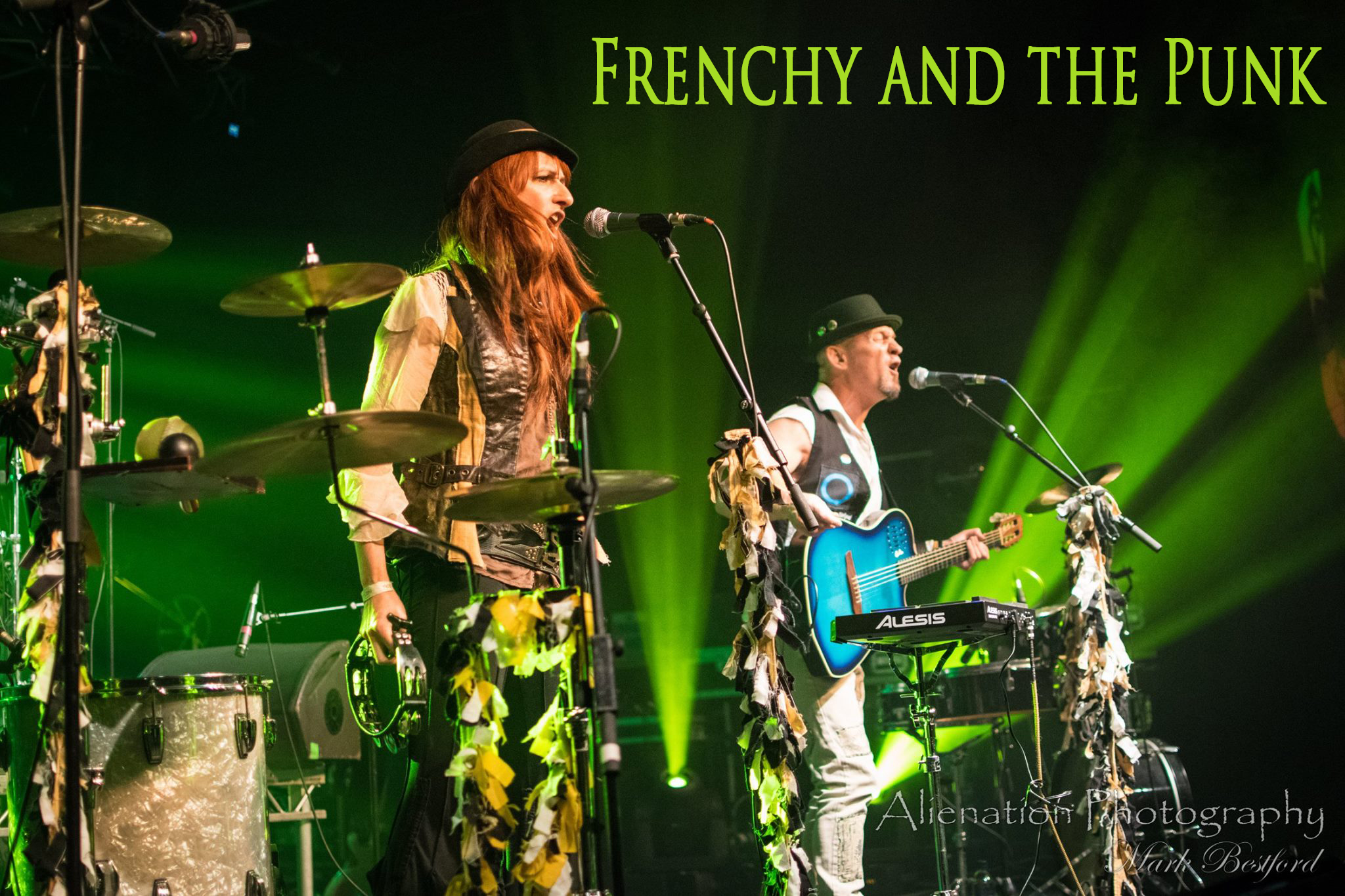 For more than a decade Frenchy and the Punk, the quirky duo based in New York's Hudson Valley, have been On tour for the new album 'Hooray Beret'! For more than a decade Frenchy and the Punk, the quirky duo based in New York's Hudson Valley, have been refining their own voice in many quadrants of the Balkanized post-punk world. They have essentially invented their own genre in which punk vitality and drive meets an evocative, cinematic way with exotic melodies and European-inflected percussive textures.

A founding member of Deep Wound with J Mascis and Lou Barlow (Dinosaur jr), Helland weaves dark riffs and layers of spidery melody in an acoustic/electric tone that is entirely his own.

French-born singer Stephenson sings with a gothy heft and authority that may remind one generation of Siouxsie Sioux and another of Grace Slick.
They have been touring across the US and in Europe since 2005. 2019 saw the release of their 6th album, Hooray Beret whose message of independence and the shedding of socially imposed identities is well-earned. Favorites at alternative music festivals including Steampunk, Dark Cabaret, Pagan and FaerieFest events.

http://www.frenchyandthepunk.com
http://www.batfrogs.com
http://www.facebook.com/frenchyandthepunk
http://www.youtube.com/frenchyandthepunk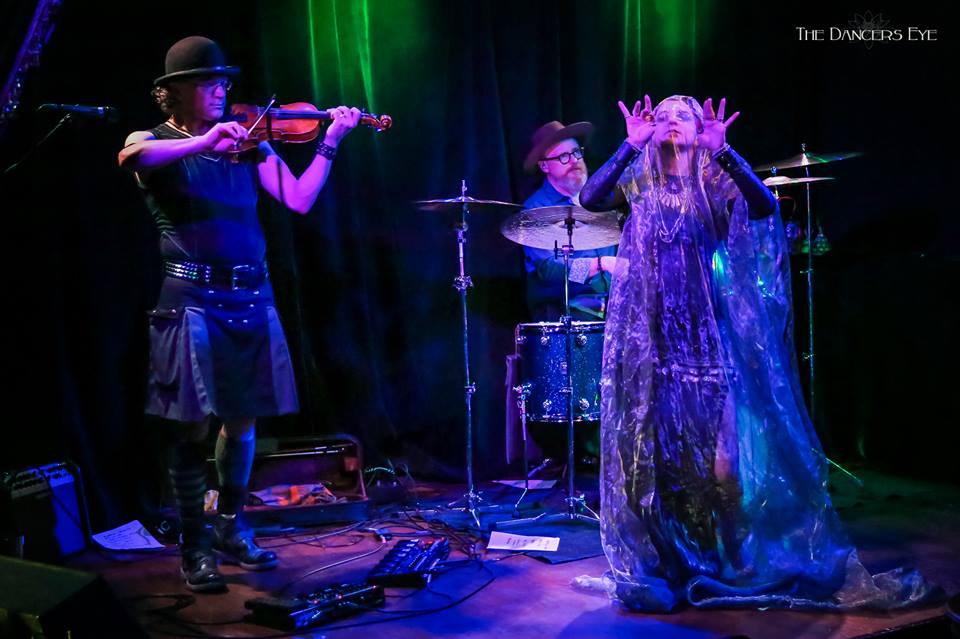 The Mechanist & The Star Goddess is a dynamic music & dance project with Tempest, Nathaniel Johnstone, and Davis Petterson.  The band combines electric violin, heavy percussion, and mesmerizing movement to create a profound sight-and-sound experience. The inspiration and title of the project evokes the exploration of the liminal space between the confines of the precise concrete world and the limitless divine.

Tempest is a world-renown bellydance performer and instructor, focusing on sacred and darkly inspired fusions that pull from the traditions of North Africa, the Middle East, and the Mediterranean. She is also an artist, author, blogger, and designer (www.lauratempestzakroff.com)

Nathaniel Johnstone is a multi-instrumentalist virtuoso (violin, viola, guitar, banjo, mandolin) whose music pulls from myth, fantasy, and folklore with a vibrant sound crosses boundaries & borders, resulting in a blend of multicultural folk rock. (www.nathanieljohnstone.com)

Davis Petterson is an Atlanta G.A. based drummer who has performed and recorded with groups such as The Ghosts Project, Juliana Finch, The Sweet Meat Love And Holy Cult, and The Changelings.

https://mechaniststargoddess.bandcamp.com
https://www.facebook.com/TheMechanistandTheStarGoddess/ 
---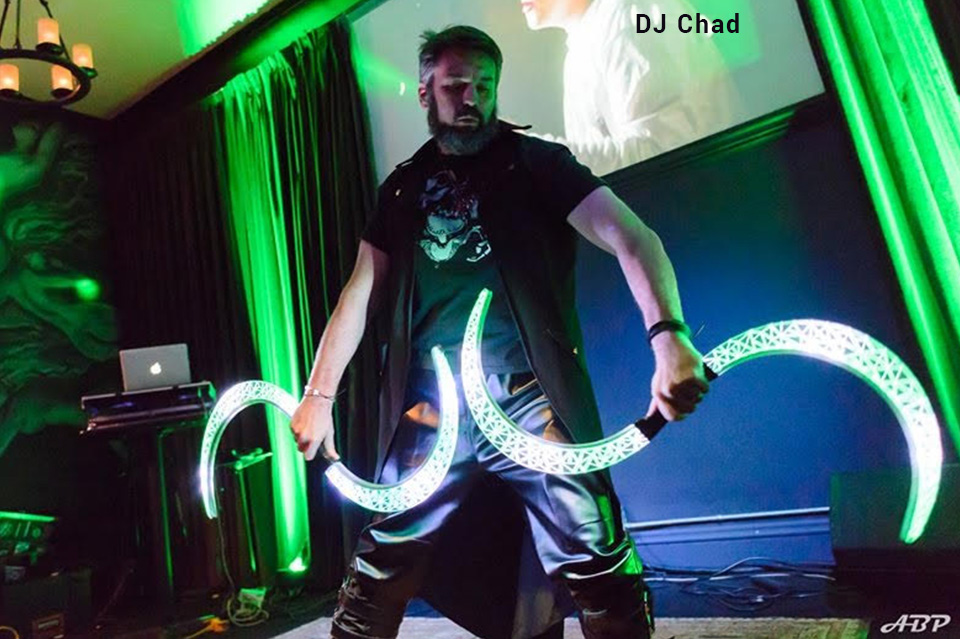 DJ Chad is a long time Rhode Island DJ, Flow Artist, and a variety performer who has been DJing and performing regularly throughout New England for several decades.

He has been a resident DJ at club events such as Nokturnal Providence and DV8, and has guest DJed at numerous events throughout Southern New England, as well as being the DJ for many bellydance and variety performance events in the area. As a performer, he made regular appearances at Danse Salmagundi events, Gathering of the Tribes, Sweet Little Variety Show in Providence, and many more

DJ Chad loves to entertain and to support our vibrant local arts community and he loves to share his art and share the message that it doesn't matter who you are, how old you are, or what shape or size, you can always follow your passions and find your flow.
---
Magickal Authors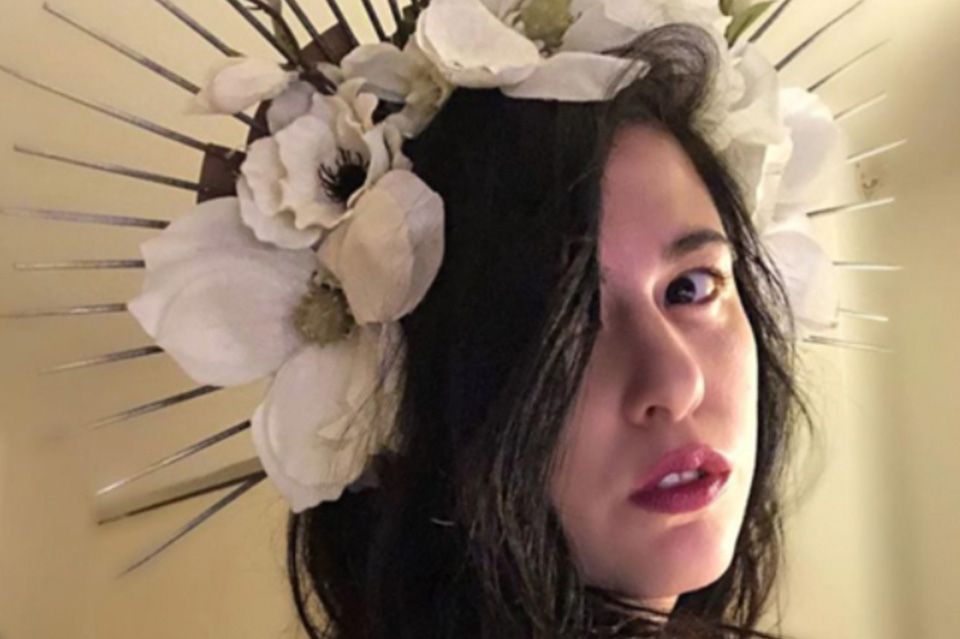 Lisa Marie Basile

Lisa Marie Basile is the founding creative director of Luna Luna Magazine — a digital diary of literature, magical living, and idea. She is the author of "Light Magic for Dark Times," as well as The Magical Writing Grimoire (due out 2020). She's also the author of a few poetry collections, including 2018's "Nympholepsy." Her work encounters the intersection of ritual, shadow work, chronic illness, overcoming trauma, and creativity, and she has written for The New York Times, Chakrubs, Venefica Magazine, Sabat Magazine, and more.
---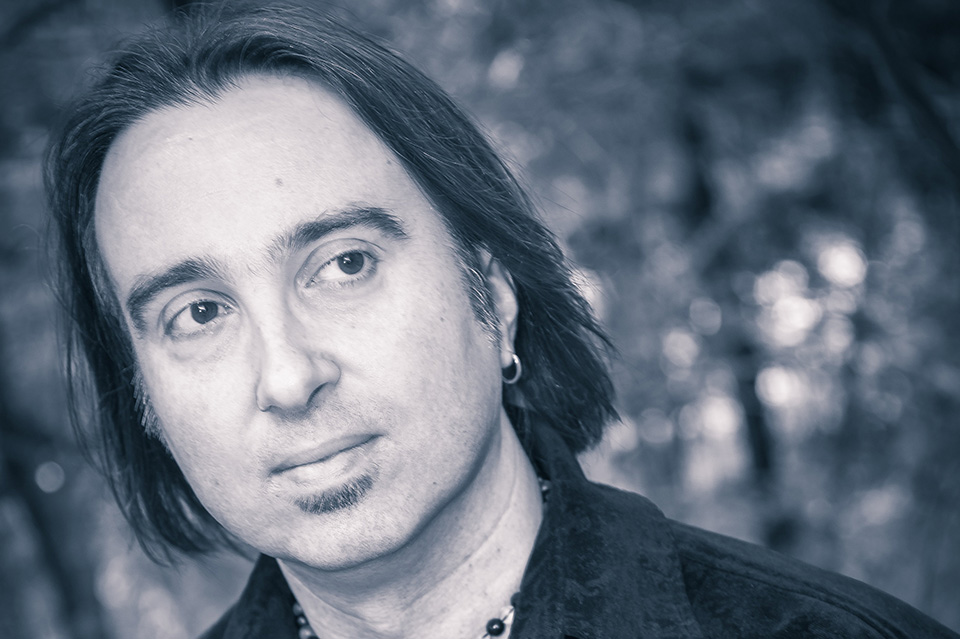 Christopher Penczak

Christopher Penczak is a modern Witch working in the Temple of Witchcraft tradition and community he helped co-found. His practice focuses on the intersection of Love, Will, and Wisdom as an ethos for today's Witch, and focuses upon relationships with the plant realm, the patterns of astrology, and the use of trance in the Craft. He is the author of many books, including the Temple of Witchcraft series and The Mighty Dead. His vision is of an evolving Witchcraft culture making magick accessible to all, yet preserving the heart of the mystery.
---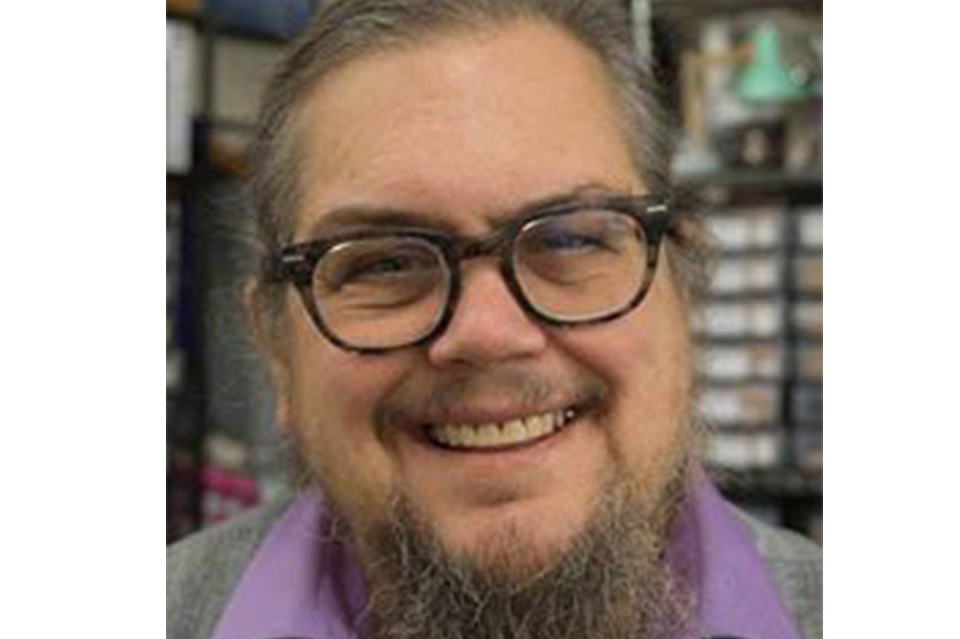 Harold Roth

Harold Roth is among the foremost authorities on plants within the modern occult community. For the past 19 years, he has owned and operated Alchemy Works, an online store focused on herb magic, where he crafts and sells incense, magical oils, and seeds for the witch's garden. His book, The Witching Herbs, covers the growth and use of 13 herbs traditionally used in witchcraft.
---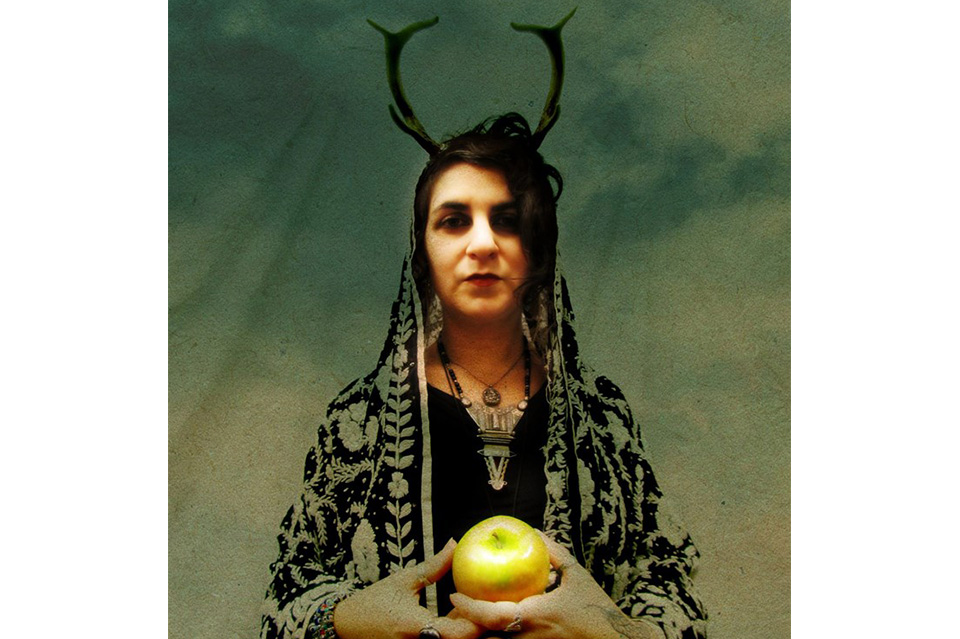 Laura Tempest Zakroff

Laura is a professional artist, author, dancer, designer, and Modern Traditional Witch. She is the author of the best-selling books Weave the Liminal and Sigil Witchery, as well as The Witch's Cauldron, and the co-author of The Witch's Altar.

Laura blogs for Patheos and Witches & Pagans, contributes to The Witches' Almanac, Ltd, and edited TheNew Aradia: A Witch's Handbook to Magical Resistance. Her first oracle deck, The Liminal Spirits Oracle, will be available in Spring 2020. Visit her at www.LauraTempestZakroff.com.  
---
Magickal Vendors
---
Special Thanks to our Sponsors
Artist Collaborative
Capricorn Jewelers
Epic Theater Company
Marilyn Salvatore Designs
OwlKeyme Arts
Paper Poetry Wings
Seaglass & Sage
Tag Sale Treasures
The Troll Shop
Veiled Crow